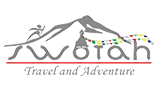 Peak Climbing and Mountaineering
Peak Climbing simply refers to climbing a peak, maybe a mountain, hill or a rock formation. The climb is easier than mountain expedition, which is carried out on the peaks of lower elevations. Unlike mountaineering, it is much safer and easier and there are enormous numbers of mountains to choose from waiting to be conquered. It is suggested to carry out these climb before you plan for a mountaineering tour as it will act as a practice or you will gain experience of conquering a summit and therefore expedition will be much more uncomplicated and trouble-free. The word "mountaineering" indicates the journey on snow, and may be glaciers or ice to reach a summit. This is for adventure lovers, those who dare to take the risk as it is a tough task and cannot be conquered with a weak heart. You need to be physically strong and require some practiced skills; however, cooperation and weather condition plays a vital role. Expedition requires a number of equipment's such as ice axes, rope, crampons, harness, descender, carbineer and so on. Nevertheless, it is worth the risk as you will be blessed with the spectacular 360 degree view.
Top
&times
Please sign up or log in to enjoy up to $100 worth coupon code and for many other exclusive discounts such as: Last Minute Deals, Early Bird Discounts, Group Discounts and so on.
Login/Sign Up